Ginny Elder was raised in Corinth, a small civil war town in Mississippi. She attended college at Mississippi State University where she received a double major in graphic art and fine art. Ginny moved to Nashville, Tennessee where she worked for a time as a graphic artist in the corporate world. Soon thereafter she shifted into freelancing as a graphic artist in order to pursue her love of painting and drawing. During this time Ginny began showing her artwork in multiple locations around Nashville and the South. Please see below and go visit her art personally to get a feel for her works!

Biography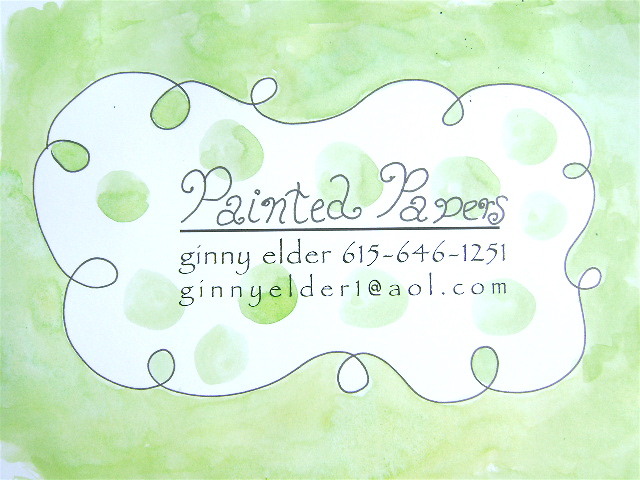 Philosophy of Art

I believe that creativity and the Christian walk for the artist fall into all areas of your life--cooking, raising children, how you view a movie, or how you decorate your house. It all reflects what you believe is true and lovely in Christ. I endeavor in my artwork to show the beauty that is present all around us. I have entitled the tree series "the tree of life" series--this name was coined by a friend. It reminds me of the earth and nature speaking to the glory of God. There are constant spiritual truths in God's creation that point us to Him who created it--the vine and the branches(John 15:5), birds of the air, lilies of the fields (Matthew 6:26), and lastly, all nature groans for His return (Romans 8:22). The growth, life, and spiritual direction that you see in God's creation speaks to who God is and who we are in His order of things.

The pieces consist of different mediums. One is a play on the batik style, using acrylic and india ink. The other paintings are watercolors done in muted colors. They are unusually small for my work, but it felt appropriate to keep them tiny and intricate. And lastly, the trays are decoupage works of vintage artwork
and scripture verses. I have found such great satisfaction bringing all of these
to life. They are all my "children" and I hope you enjoy them as much as I
have enjoyed creating them.


Places where Ginny has shown her art

Local Color Gallery (1992-1998)
Cheekwood Botanical Museum (1993)
The Parthenon (1993)
The Nashville Junior League Show House (1996-1999)
Christ the King Art Show (2010)
Belmont Community Art Show (2014)
The Montgomery Bell Academy Art Show (2012, 2013)
The St. George's Independant Academy Art Show in Memphis (2010, 2011--featured artist, 2012, 2016)
The Harding Academy Art Show (1997, 2010)
Lipscomb Academy Art Show (2013, 2016 - 2018)
The Trinity Art Show in Atlanta (2014, 2015, 2018)
The Wesleyan Artist Market in Atlanta (2014, 2015 - 2018)
The Brentwood Academy Art Show (2010-2017)
Laurel Leaf Gallery, Leipers Fork, Tennessee (2011-2013)
Sam and Zoe's, Nashville, Tennessee (2011-2014)
Fresh Style in Brentwood, Tennessee (2011-2015)
Retail Therapy in Cool Springs, Tennessee (2013-2014)
Art on the West Side (2015, 2016)
Christmas Marketplace (2015, 2016)
Martin Masters Art Show (2015, 2016)
Webb School Artxtravaganza (2016 - 2018)
Southern Vintage Market, Brentwood, Tennessee (2014-2017)
Shop Around The Corner, Franklin, Tennessee (2016-2018)
Out of the Nest Art Show (2016, 2017)
Ex Voto Vintage Pop Up Art Show (2016)
Midtown Greenville, Greenville, Mississippi (2017 -2018)
Mississippi State University 50th Anniversary Alumni Exhibition (2018)


Also, follow Ginny on Instagram under the title Ginnyelderart and on Facebook under Paintedpapers.